Help us take more kids fishing by donating.
There are several ways to donate to Captain Rollo's Kids at Sea. All donations are tax deductible. You can donate directly to Captain Rollo's Kids at Sea with a check, credit card or PayPal account or donate through one of the non-profits that we partner with. Please select the option that works best for you. Please download the form below and mail or fax it back with your donation.

Mail checks to:
Captain Rollo's
2580 Ingraham Street,
San Diego, CA 92109
You can also donate electronically by using your Paypal account or a credit card.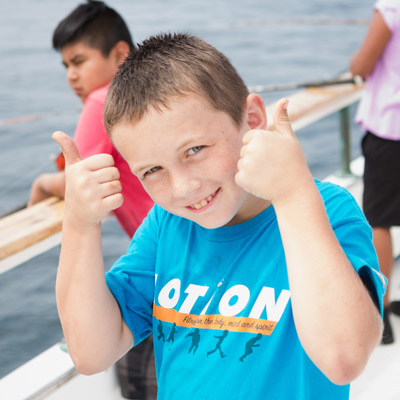 Annual Friends of Rollo Raffle
Our Annual Raffle is one of our primary sources of funding. The prize selection is amazing. Tickets are $10 and can be purchased throughout the year at supporting tackle stores and landings.
Donate your old fishing tackle
We can easily convert fishing tackle no longer in use into the funds needed to get more kids out on the water.  We participate in numerous events a year where we raffle off new and used equipment that has been donated and use the funds to give kids the opportunities to learn about the ocean, the marine environment and fishing.
Fishing gear donations to Friends of Rollo can be dropped off at the Dana Landing in San Diego,
Attn: Steve Pinard
The Dana Landing address is:
2580 Ingraham St., San Diego 92109