Captain Rollo's Kids at Sea is grateful to every company that supports our cause and helps more kids go fishing!  To thank them, we highlight different partner companies every month.
December is Turner's Outdoorsman month!

Turner's Outdoorsman has not only been a leader in supplying the best fishing and hunting equipment to Southern California for over 40 years but they have also been a long standing supporter of the Rollo program and here is another fantastic opportunity for someone to have an awesome shopping spree! Turner's Outdoorsman is offering up a $300 Gift Card which is good at any of their 19 southland locations!
Entering is fast and easy and there is nothing to buy.
Here is how to enter:
#1. Subscribe to the Captain Rollo's Kids at Sea Newsletter at www.rollokids.org
OR
#2. Reply to the Captain Rollo's Kids at Sea Forum page on BD Outdoors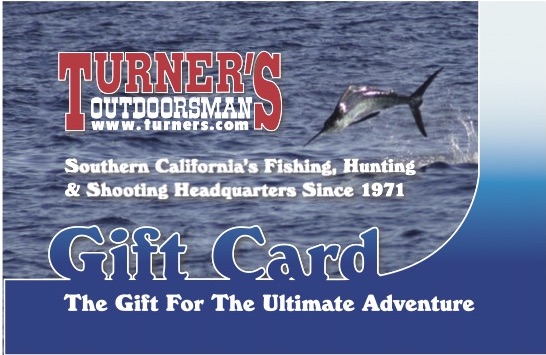 It's that simple!
We all need to add new gear to our fishing and hunting collections so why not take a moment and show your support for Rollo and Turner's Outdoorsman by entering this month's raffle!
On behalf of Captain Rollo's Kids at Sea and all of our sponsors, thank you all for your continued support!